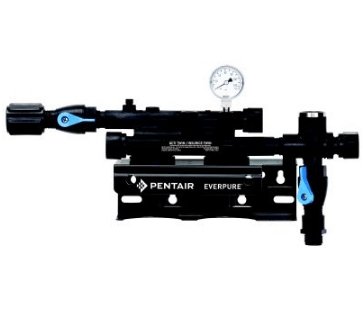 Free
Shipping
New redesigned commercial quality filter head for Everpure filter cartridges.  Plate mounted with a built-in shut off valve and pressure gauge.  Use the same two cartridges in both heads.
Comes with a five-year manufacturer's warranty
Specs:
Working Pressure: 125 PSI
Max. Temp: 100 F
Inlet Outlet Size: 3/4"
Shipping Weight: 2 lbs
Dimensions: H: 8.5" W: 16.6" D: 5.5"
Specs Sheets:
Our Guarantee:
Your satisfaction, with our products and service, is of paramount importance to us. If you have any issues whatsoever, please send us an email or better yet, hop on our Live Chat. We will take care of you. Thank you.
Here is a link to learn more about warranty & returns.